Our worship reflects an awesome respect for the holiness of our God.
Sunday Worship
Our weekly service at 10:30am is a traditional service with an emphasis on scripture, the message, music and fellowship.  Dress is casual and greeters will welcome you at the door and give you information on childcare. If you need directions or would like more information regarding our Sunday Service, visit our contact page.
Sermons
This year, Pastor Earl Stewart served as our interim pastor. Selected sermons are available on this page.
Music Ministry
Our music ministry supports and strengthens the ministry of the word.  Using many styles and choral and instrumental combinations, it is sometimes lively, sometimes prayerful, but always God-led.

Our adult Chancel Choir meets Wednesdays at 7:00 and sings a range of music styles each Sunday morning.
The Praise Team leads contemporary Christian songs on Sunday.
The Christian Crew of children and teens rehearses on Wednesday afternoons, adding their voices to Sunday worship.
Seasonal cantatas, special music and guest instrumentalists help us celebrate our faith.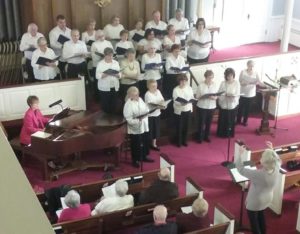 –
In 2012, Bedford Presbyterian founded the Community Singers, a volunteer community chorus that brings singers from around the county together for the joy of singing and the bond of fellowship.